Secure Shredding Services Detroit MI
Are you looking for secure shredding in Detroit MI?
Detroit, Michigan, is the state's most populated city. In a typical year, the city draws thousands to view quality theater, entertainment and sporting events. From well-known concert halls and sports stadiums, to the plethora of fun and interesting facts about the area, Detroit is filled to the brim with excitement. Known as the automotive capital of the world, Detroit is also often referred to as the Motor City, after Henry Ford founded his manufacturing company in 1903. From 2000 to 2010, the city saw a decline in population and business after a lull in the auto industry, but it has steadily begun to thrive once again.

With ample revitalization projects along the riverfront, the restoration of historic theatres and an influx in high rise luxury condos, Detroit is gradually seeing an economic boost. Along with an increased population and business in the city comes the need for storage, shredding and all the services Corrigan Records can provide.

With identity theft on the rise and increasing governmental and corporate regulation surrounding the use and handling of information, it's important to partner with an information management professional who can ensure the safety of your data, and demonstrate that your information is destroyed using methods that keep you secure and compliant.
What Services Do We Offer?
Corrigan Record Storage has a variety of shredding options available to meet the needs of any business. You can rest assured that all of your files will be destroyed and recycled properly. For materials that need to be preserved and safely stored, we offer document management and storage facilities where your materials are maintained and protected in our secure, climate controlled facilities.
Here's a list of our services:
Off-site shredding services. Perfect for all of your shredding needs, including one-time purges. When your bins are ready to be picked up, our uniformed, HIPAA-compliant staff will replace your bin and transfer the documents to our secure facility
Hard drive destruction, to eliminate old hard drives and computer processing units. Deleting a file does not erase it completely! All e-waste is recycled. 
Records management services. From storing documents to document scanning, we've got you covered. 

Choose from a number of options and we work around your schedule. Our facility is gated, locked, and alarmed for shredding destruction or storage. We monitor our warehouse and shredding facility with 24-hour video surveillance and require identification for entry. 
Corrigan Record Storage is proud to offer secure shredding and document storage services to businesses and professionals in Detroit, MI, who are looking for reliable and affordable information management services.
What Documents Should Be Shredded?
Any personal identifiable Information (PII) in the form of employee personnel records, financial statements, contracts and other potentially classified material stored as paper or digital media. Some data, such as bank statements, tax records, budgets and cancelled checks simply need to be destroyed on a regular basis when it is no longer needed.
Secure, Compliant Shredding Services in Detroit
Corrigan Record Storage understands that confidentiality is critical. As such, we have comprehensive security infrastructure, certifications and procedures in place to ensure that every file that enters one of our facilities is protected.
We are fully certified by the National Association of Information Destruction (NAID) and provide destruction certificates to every customer.
HIPAA and FACTA are laws established as a result of the Federal Privacy Act that outline the rules and regulations all businesses must follow in order to remain federally compliant.
Destruction and disposal of unnecessary documents and files containing personally identifiable information is covered extensively under these guidelines. According to the federal government, the best way to effectively destroy unneeded information is by trusting in a professional secure shredding service provider.
Our secure shredding services can help your office cut back on any clutter that may be holding back your efficiency. If you want to maximize your office productivity and enjoy peace of mind knowing that all your on-hand documents and files are always organized and up-to-date, you need secure shredding.
Enjoy convenient, simple, and cost-saving information destruction services with secure shredding from Corrigan Record Storage, today. We put your needs first every time! Read more about compliance here.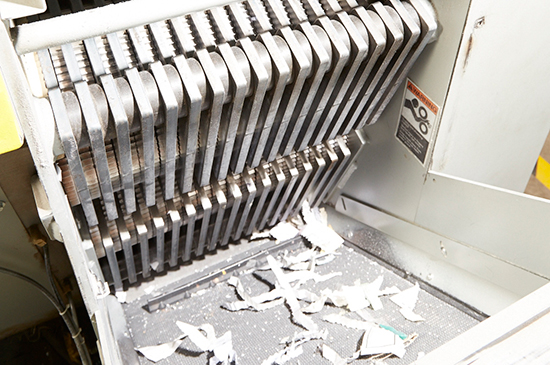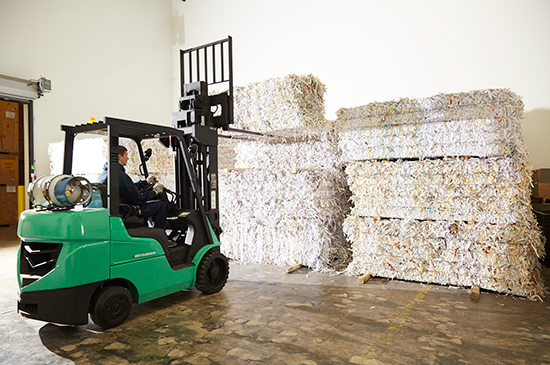 At Corrigan Record Storage, we understand the value of the information you place in our care. Throughout the life cycle of your documents, we go to great lengths to protect your files and documents from unauthorized access and use. This commitment to security extends to the time when bank statements, sales reports, financial records and other documents no longer need to be housed and maintained. Secure destruction of your documents is as important as secure storage.
We're proud to serve businesses and organizations in Detroit. When it's time to clear out the old to make room for the new, trust Corrigan Record Storage with all your secure shredding and information destruction needs.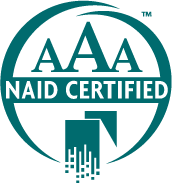 As AAA certified member of the National Association for Information Destruction (NAID), our facility undergoes several unscheduled inspections each year, ensuring compliance throughout the life of your documents. provide destruction certificates to every customer.
WE UNDERSTAND THE VALUE OF YOUR RECORDS AND OUR FOCUS IS ON YOUR NEEDS
We Offer Secure Solutions For Your Document Shredding and Records Management Needs.