First Saturday of Each Month
Our Community Shred Day is held on the first Saturday of each month between 9 am and Noon.
Corrigan Record Storage is a NAID Certified and HIPAA compliant company. This gives our customers peace of mind that their documents are shredded and recycled in the most secure manner. Our great staff will always help you unload your car and shred your documents immediately.
45200 Grand River Ave, Novi, MI 48375
Can't Wait Until Our Next Shred Day? Click Here to Schedule a One-time Purge!
Or you can Schedule a Drop-Off Appointment Online!
Please No trash, binders, or bag in a bag (paper clips, rubber bands, staples are no problem). This slows down our process and additional charges could apply.
Corrigan Record Storage is also an authorized electronics recycling company.
Our e-waste recycling is HIPAA & EPA compliant and EHSMS Policies and Procedures are implemented.

Our Commitment to the Environment
To date we shredded 1,792,696 pounds of paper or 896.348 tons which saved:

15,238
Trees

6,274,436
Gallons of water

2,958
Cubic yards of landfill space

896
Metric tons of greenhouse gasses
Due to our company policy, viewing of your documents being shredded is not allowed at our Community Shred Day.
If you can't make our Community Shred Day or if you would like to watch your documents being shredded, please call us at 248-344-9185 or use the Book Drop-Off Appointment link at the top of the page to make an appointment for during the week. We are open Monday-Friday in our Novi location from 9 am until 3 pm for accepting your personal documents to be shredded. The cost during the week is 15 cents a pound with a $20.00 minimum charge.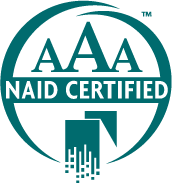 As AAA certified member of the National Association for Information Destruction (NAID), our facility undergoes several unscheduled inspections each year, ensuring compliance throughout the life of your documents. provide destruction certificates to every customer.
WE UNDERSTAND THE VALUE OF YOUR RECORDS AND OUR FOCUS IS ON YOUR NEEDS
We Offer Secure Solutions For Your Document Shredding and Records Management Needs.